Use the links on this page for the special for joining.
ICIWorld Association of Real Estate Brokers and Salespeople
BOOTH SPECIAL
REALTOR QUEST ATTENDEES (still signing up)
ONE OF THE LARGEST REAL ESTATE SHOWS OF ITS KIND IN THE WORLD (10,000 attendees)


TODAY NOW EXTENDED INDEFINITELY
FOR ALL NEW PROSPECTIVE REAL ESTATE
BROKERS AND SALESPEOPLE

BECOME A GLOBAL ICIWORLD EXECUTIVE MEMBER AND AMBASSADOR.
You must be a licensed, registered real estate broker or salesperson in the USA or Canada. You do not have to be a member of NAR or CREA,
If you are a Realtor, i.e., a member of NAR or CREA, you must abide by their guidelines for advertising. There are no restrictions for networking exclusive commercial real estate. There are some restrictions for networking exclusive residential real estate listings. But you can still advertise MLS listings as you would in any real estate classified ad type service.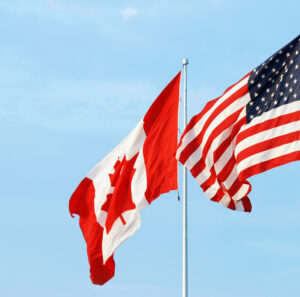 ZOOM Assistance Provided Worldwide


We consider ourselves as a personal marketing and information assistant to you personally as well as to all real estate brokers and salespeople worldwide.


When making an appointment select your time zone.

Gary Bio
I would appreciate the opportunity to serve you.
24 hr. if we do not answer personally, leave a message.
Lorraine
Canada 416-840-5787
USA 954-317-2327
24 hr. if we do not answer personally, leave a message.

With the ICIWorld Executive Membership VIP Corporate Client Discount Card APPLICABLE WORLDWIDE and Registration, your membership can easily be free. To make it free, you pay your membership fee first with a credit card and then receive the registration to receive discounts throughout the year, which can easily total more than the price of our membership. This benefit is in addition to whatever you earn from sales and doing referrals. 
Then, make an appointment for a 60-minute orientation. Usually only one or two sessions is ever needed. What you learn in this 60-minute session can make tens of thousands and hundreds of thousans of dollars and save you time and money for life. You will have instant full access and can place unlimited Haves and Wants and market your listings. Go to the Login page on ICIWorld and print out Number 1 Orientation page, which contains the full instructions. Numbers 2 and 3 are how to place effective Haves and Wants. Number 5 is Webinars on Demand, Featured Video Recordings of seminars conducted for real estate boards, associations and real estate offices. Includes how to work exclusive information in compliance with RECO or your licensing body. We will show you how brokers do business daily by asking simple but powerful questions. We will also provide you with our ICIWorld VIP CLient Card Registration for discounts throughout the year on food, entertainment, products and services for you and the family.
No person referred you. Open to all real estate brokers and salespeople worldwide.
One-time lifetime opportunity or if you have not been a member for more than one year. This does not apply to renewals of existing members. We are investing considerable time to grow the service to benefit you. Appreciate your help. Just see the testimonials of how wonderful it is working. And know Our Pledge. If you are not making money, it is something you are missing, not ICIWorld. Give us a chance to go through our particular checklist to help you. We are assistants to 1,000+ brokers and salespeople. It works. The experience we have is through the school of hard knocks. We are now like a doctor's office with appointments every hour on the hour, helping new people get started. Make an appointment.
Executive Members have a referral program that, for some, gets their membership down to $10/mo.  
With an opportunity to do even better by referring others while a member. We can send you a unique link that you can forward to others. Or give your friend this link: iciworld.com/referrallink, and tell them to enter their email address.
Renews at $319. 
If you refer someone during your term, 1st referral reduces membership to $240; for additional ones, we add three months onto your membership. Refer five people renewal becomes $240 for two years or $10/mo. Help organize seminars in your office and receive credit.
Here is an invoice for Canada and an Invoice for the USA that you can print out and attach to the receipt and give to your bookkeeper or accountant for a tax deduction and HST credits, if any.
2. Realtor Quest Special Monthly EXTENDED WORLDWIDE INDEFINITALEY $30/mo. 
30.iciworld.com Canadian Dollars
30usa.iciworld.com USA Dollars
$30 per month,
No person referred you. Open to all real estate brokers and salespeople worldwide.
No contract. 
Call anytime to cancel. 
Here is an invoice for Canada and an Invoice for the USA that you can print out and attach to the receipt and give to your bookkeeper or accountant for a tax deduction and HST credits, if any.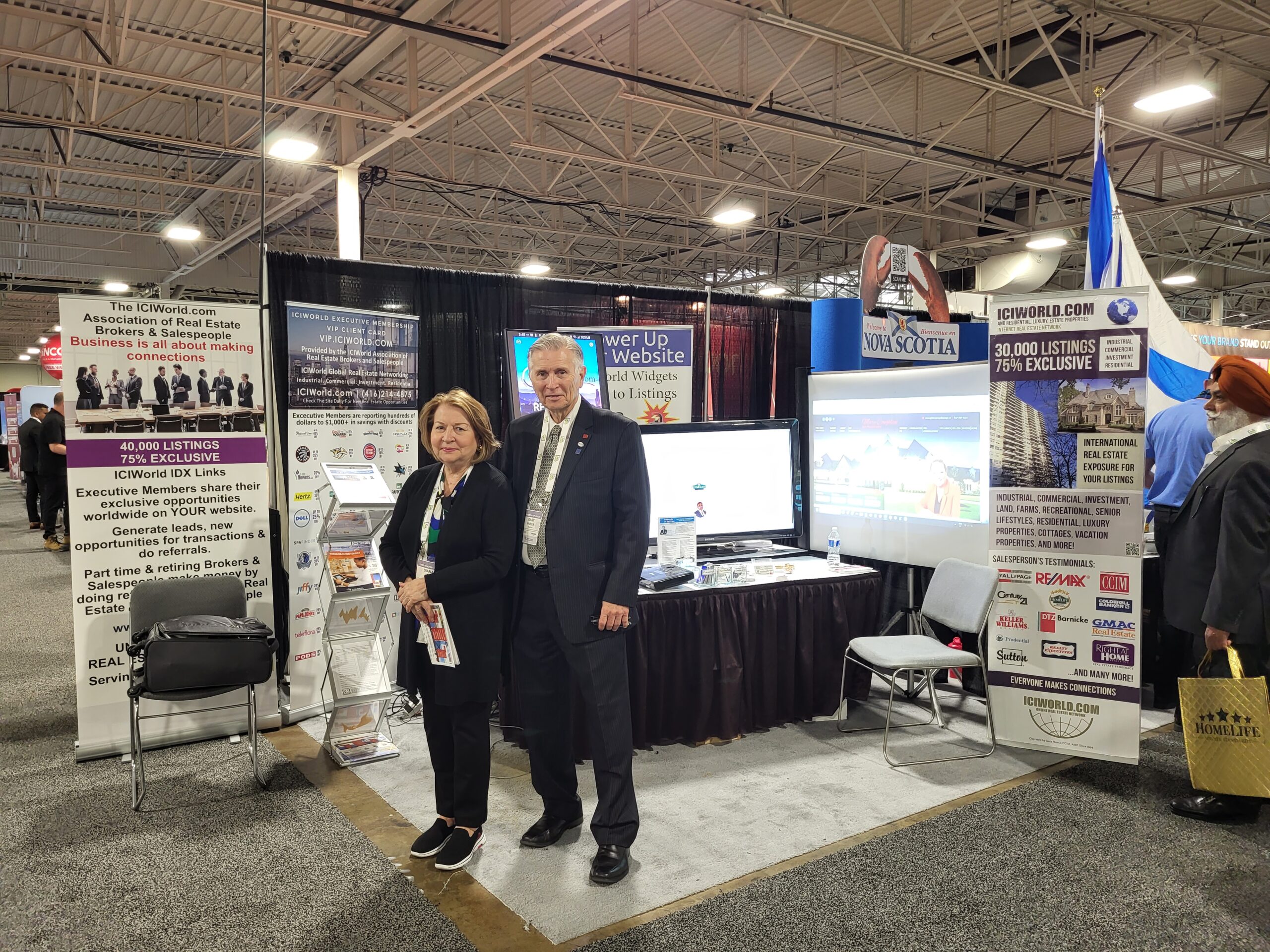 For Your Special Discount, Please Make One of four choices to receive a discount for an ICIWorld Executive Membership.
Once you join, make an appointment. Or you can join in your appointment. No obligation to join.
Be the leader; join today.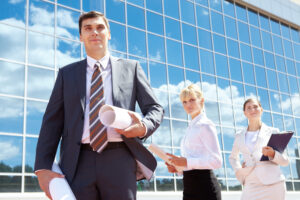 1. Held Over From Realtor Quest Special 2023 For All Real Estate Brokers and Salespeople Who Visited Our Booth

We were so busy at this show, 10,000 people attended, that we could not process all the interested real estate brokers and salespeople to join and answer any questions. 
We recommend you make an appointment to be conducted in your home or business office over the phone while you are on the computer. We use Zoom as well. And we can answer any questions, and get you started and explain why so many brokers are making money. SEE TESTIMONIALS. And why the service is now basically free. 
Realtor Quest, provided by The Toronto Regional Real Estate Board, is one of the world's largest real estate trade shows. Over 10,000 attended this year's event. We handed out over 6,000 brochures from our booth to encourage all to connect and network with you when you place your Have and Want information on ICIWorld. All Realtors worldwide can attend this show for a fee. As a result, tremendous networking and connections to do transactions continue 24/7 at www.iciworld.com
ICIWorld REALTOR QUEST SPECIAL – Extending Globally
Exclusive Offer for New Members Worldwide
$240 for one year and three months.



Witness the Power of Networking!
SEARCH TO SEE ALL THE DAILY NETWORKING GOING ON.
During REALTOR QUEST, to help everyone connect and do transactions, we printed and distributed 6,000 handouts to passersby, and over 100 individuals expressed keen interest in joining our network. This is just one of the many ways we facilitate global networking opportunities for everyone in the industry. Remarkable transactions are unfolding between members, individuals from Dubai and around the world.
Due to the overwhelming response at REALTOR QUEST, we've decided to extend this special offer to all the people who not only handed us their business cards and expressed interest in joining but Realtors worldwide.
To avail of the REALTOR QUEST SPECIAL, visit the Number 1 link on this page. The event was too busy and bustling, making it challenging to address all inquiries at the booth. As such, we've set up "make an appointment" for any and all questions using presentations via Zoom.
One reason why many were interested? Providing real estate networking opportunities right from your website! It triggers leads. Would you mind doing the odd five minute referral that makes you %5,000 to $15,000?
With our IDX Links, you can seamlessly integrate them into your website. For brokers and salespeople, we offer guidance on tapping into exclusive real estate opportunities. Feel free to invite us to your office, board, or association for informative webinars on demand.
Discover the potential of transactions that other brokers and salespeople are successfully conducting, and we'll provide a specialized one time, one hour training session with Zoom, to get you fully up and running and ready to make money.
There is of course further assistance if needed, backed up with videos, and webinars on demand, to support you until you're up and running. We're here to assist with any appointments you may need.
If you're a retiring broker, explore our tailored programs at www.retiredbrokers.com
For part-time brokers interested in referring business to full-time brokers, visit www.referralbrokers.com
Schedule an appointment with us today, and we eagerly anticipate engaging in a productive discussion with you. The appointment is allocated for 60 minutes, but we are flexible to accommodate more or less time if needed.
Think of us as your dedicated marketing and information assistants, always ready to assist you in advancing your real estate endeavors.

Join, and your membership becomes free if and when you use the new ICIWORLD VIP CLIENT DISCOUNT CARD, do transactions and do referrals. Something every member should be doing every 90 days. 
Benefit from 

$100's in Savings and Discounts for Products, Services, Entertainment, Food, Travel and more.  The savings can easily offset your membership fee.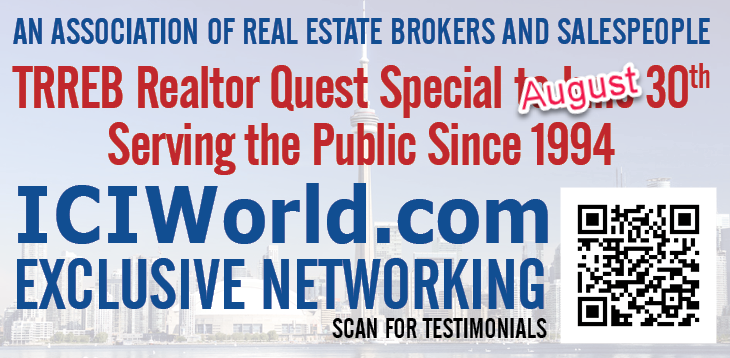 Due to the success at Realtor Quest, we have extended the special indefinitely.
Where over 100 expressed interest to join and are joining.
Remember there are four ways to make your membership free.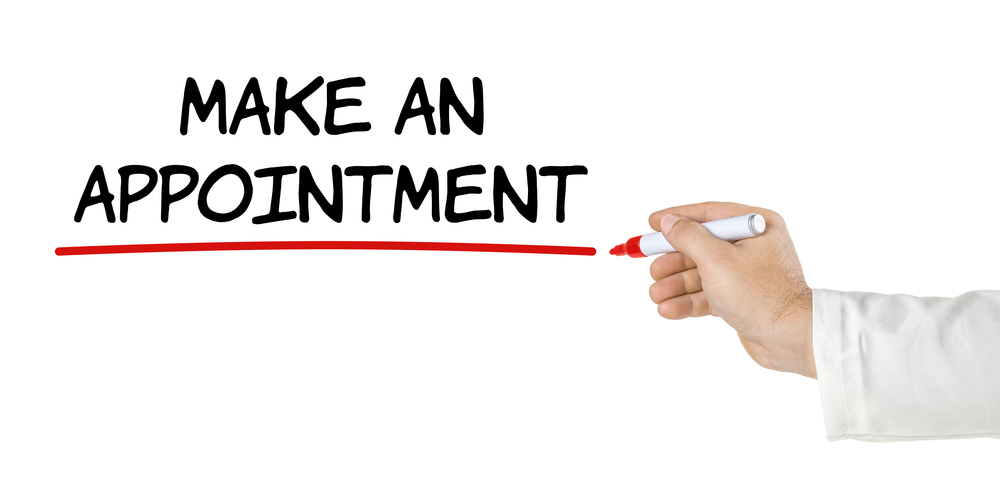 Within minutes of an appointment you will be flying in terms of placing information for marketing worldwide. 


Special Introductory Global Real Estate Networking Excutive Membership For Real Estate Brokers and Salespeople Worldwide.
Includes Global Exclusive Real Estate Links For Your Website.
See iciworldidx.com
 Now you can offer both MLS AND EXCLUSIVES on your website.

3. Referral Program for Executive Members to Refer Friends and Colleagues to Join. (All year round)


 Not a member? Get a colleague who is an Executive Member of ICIWorld to refer or sponsor you. You both get a discount.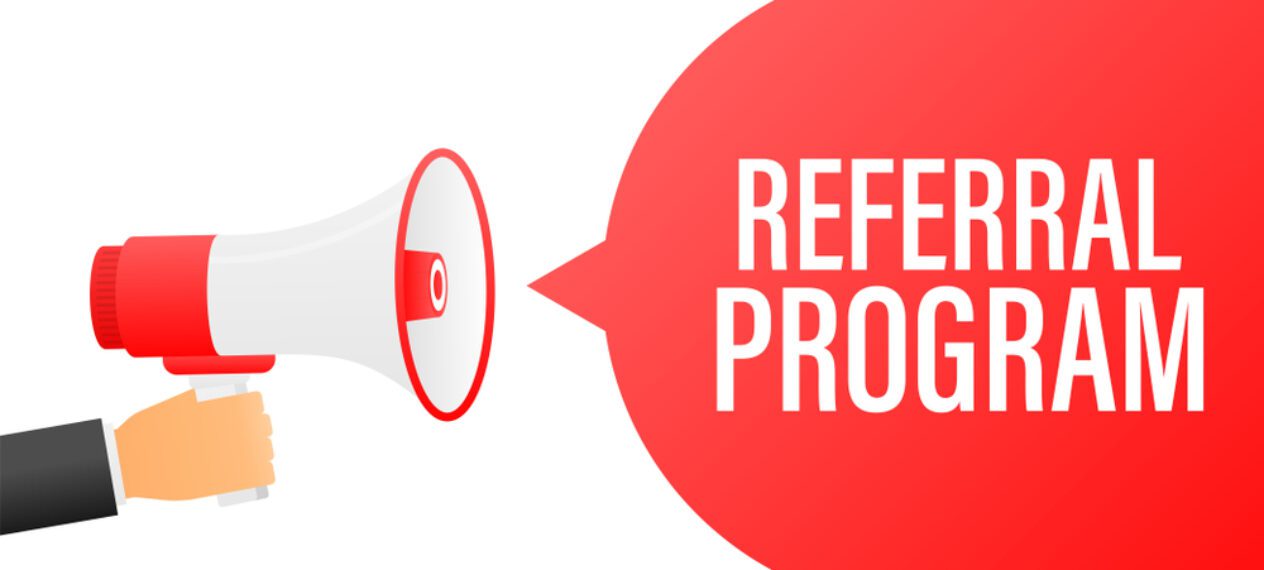 3. REFERRAL SPONSORSHIP PROGRAM FROM MEMBERS TO REFER FRIENDS AND COLLEAGUES

This program is available year-round for all Executive Members to offer friends and colleagues.
Message to members: Suggest they make an appointment with us and if and when they join, they get the special because of you and you also get some credit as well.


For New salespeople to join, using the EMail address of a member of ICIWorld for reference,
Get the EMAIL address from a member of ICIWorld who sponsors you or you can search their name in the following link.
Click on this link for 240 for 15 months – enter referring ICIWorld Members' email address.

OR request the member of ICIWorld send you a link. (if you are a member of ICIWorld, you can get the link by emailing us or calling.)

Fifteen months for $240.

TIHS SPECIAL IS AVAILABLE ALL YEAR ROUND. YOU JUST NEED THE EMAIL ADDRESS OF THE MEMBER WHO IS REFERRING YOU.

SEARCH MEMBERS.The Executive Member will also receive a little credit as well. Let them know since sometimes they are not aware of it. Every member is supplied with a special link they can send to their colleagues to join. Members can click on My Referrals on the Login Page to see a record of who joined with your link or input your email address when they joined. On renewal you get credit.

Members can request a unique link that we send to you by EMail. When you send that link to someone, they do not have to enter your email, and they will be registered under My Referrals for you.

Real estate salespeople who are not current members but refer others in the database can receive credit.
Here is an invoice for Canada and an Invoice for the USA that you can print out and attach to the receipt and give to your bookkeeper or accountant for a tax deduction and HST credits, if any.
Team Memberships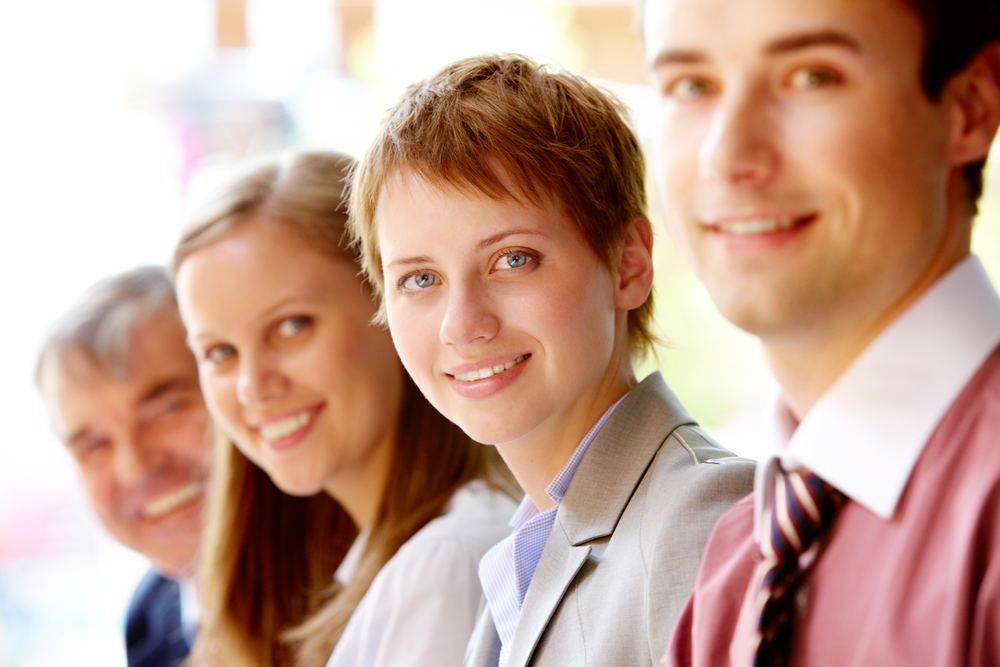 4. TEAM MEMBERSHIPS
Whoever will be making money from the sale of a property as a result of the sale of a property generated by a contact as a result of ICIWorld must be a member. 
If you make $30,000 and split it among team members, all members of the team must be a member. Each member may have a VIP Corporate Card Discount Account. 
Team Leader special.iciworld.com
no person referred you.
if someone did refer you use this link.  240 for 15 months – enter referring ICIWorld Members' email address.
240 15 months works out to $16 / mo. 
One-time lifetime. Renewals are $319. However if you refer others there is a 25% discount and added time for memberships.
New salespeople on the team to join, click on this link for 240 for 15 months – enter team leader ICIWorld Member email address.

OR request the team leader member of ICIWorld to send you a link. (if you are a member of ICIWorld, you can get the link by emailing us or calling.and request the Referral Link)

Fifteen months for $240.

Here is an invoice for Canada and an Invoice for the USA that you can print out and attach to the receipt and give to your bookkeeper or accountant for a tax deduction and HST credits, if any.
NEW ICIWORLD BENEFIT 
Introduced at TRREB REALTOR QUEST May 17, 2023

It effectively makes your Executive Membership free if you use the card or the discount number that we assign to you to buy things at a discount throughout the year.
Some members have received discounts far exceeding the price of joining ICIWorld. We provide you with a registration number to log in to see all the discounts and take advantage of them upon joining.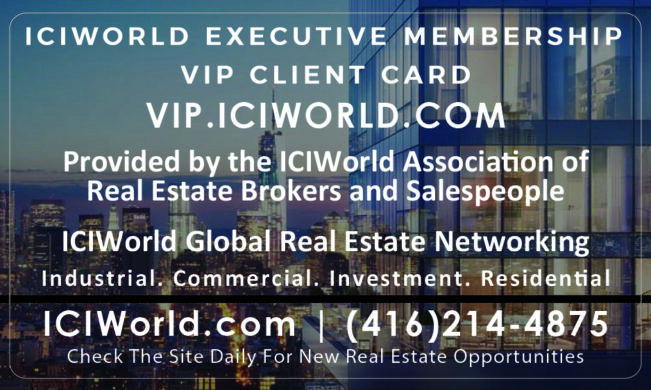 ICIWorld Executive Membership VIP CLIENT CARD 


For All New and Renewing Executive Members
See just a few discount participating businesses. 
One member told me he saved $200 on a Lenovo Laptop, another $300 savings renting a car in San Francisco, another $180 on tickets to the CNE  and more.
The concept is, the discounts can benefit you, more than the cost of a membership. It should help you maintain the IDX links on all members websites providing among the most exposure for all members listings, Have and Want opportunities worldwide.  Yes at basically no cost if you use the discount ICIWorld VIP CLIENT CARD. Most use the online ordering.
Receive our VIP Client Card or number to register, which provides hundreds of dollars of discounts to potentially thousand+ dollars of savings on travel, food, entertainment, products and services. 
Register at vip.iciworld.com
Call, and we will give you a unique number you can enter to register your corporate VIP card.
We can also send an actual card by snail mail.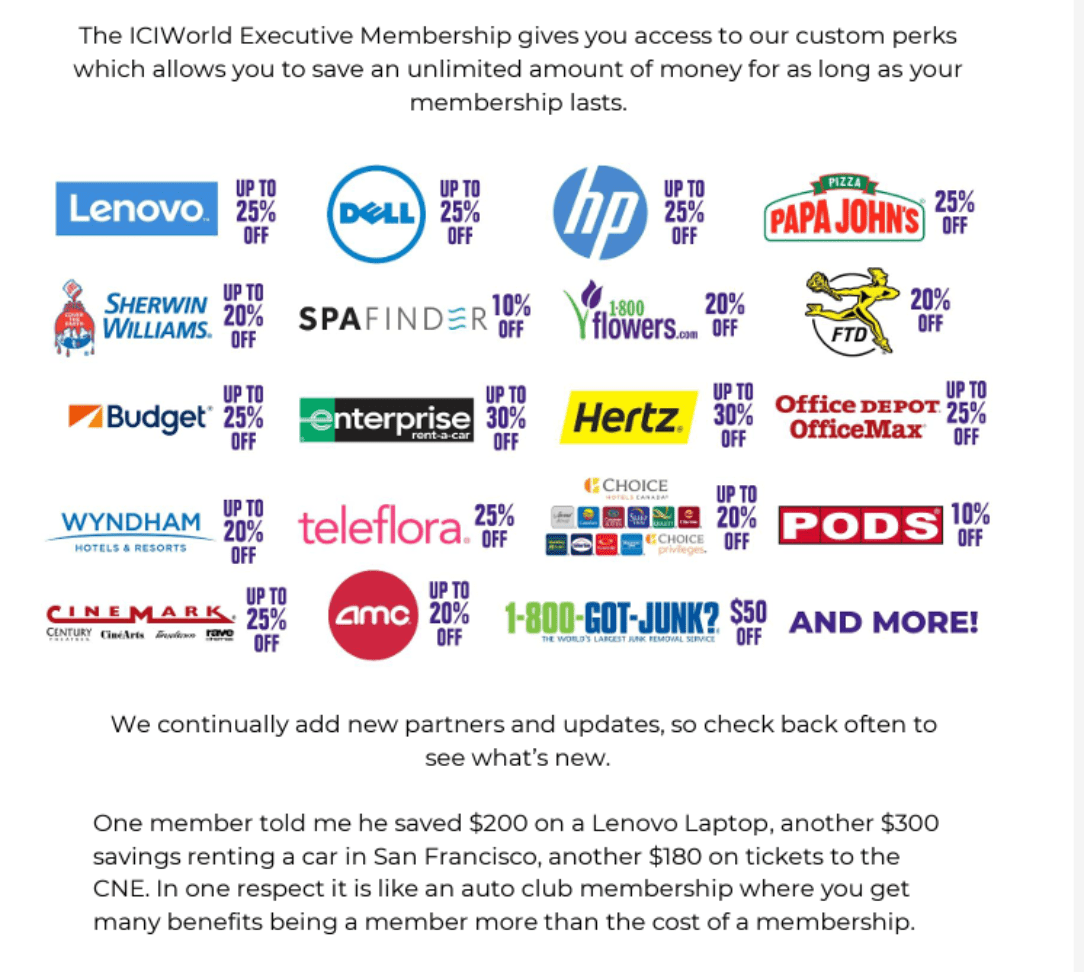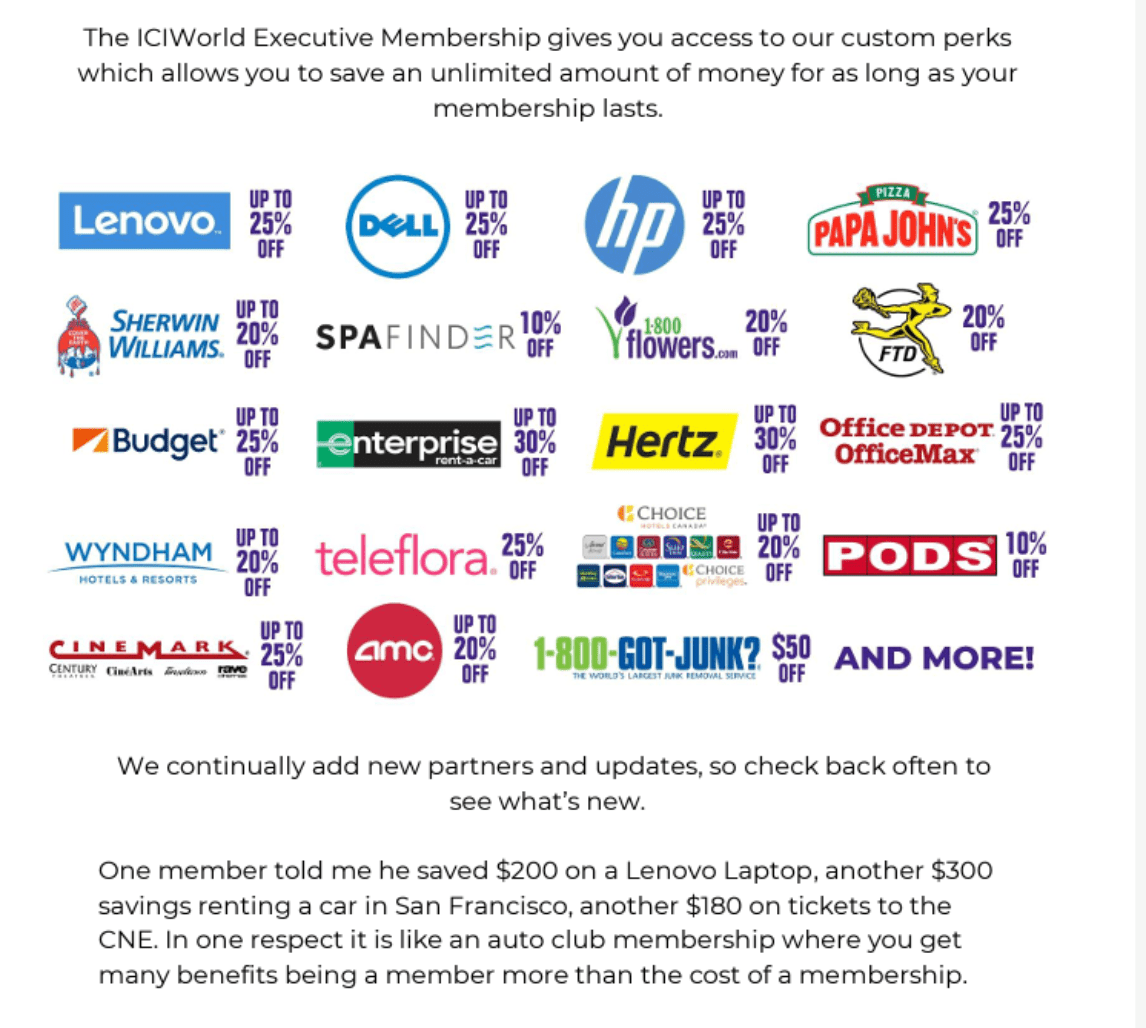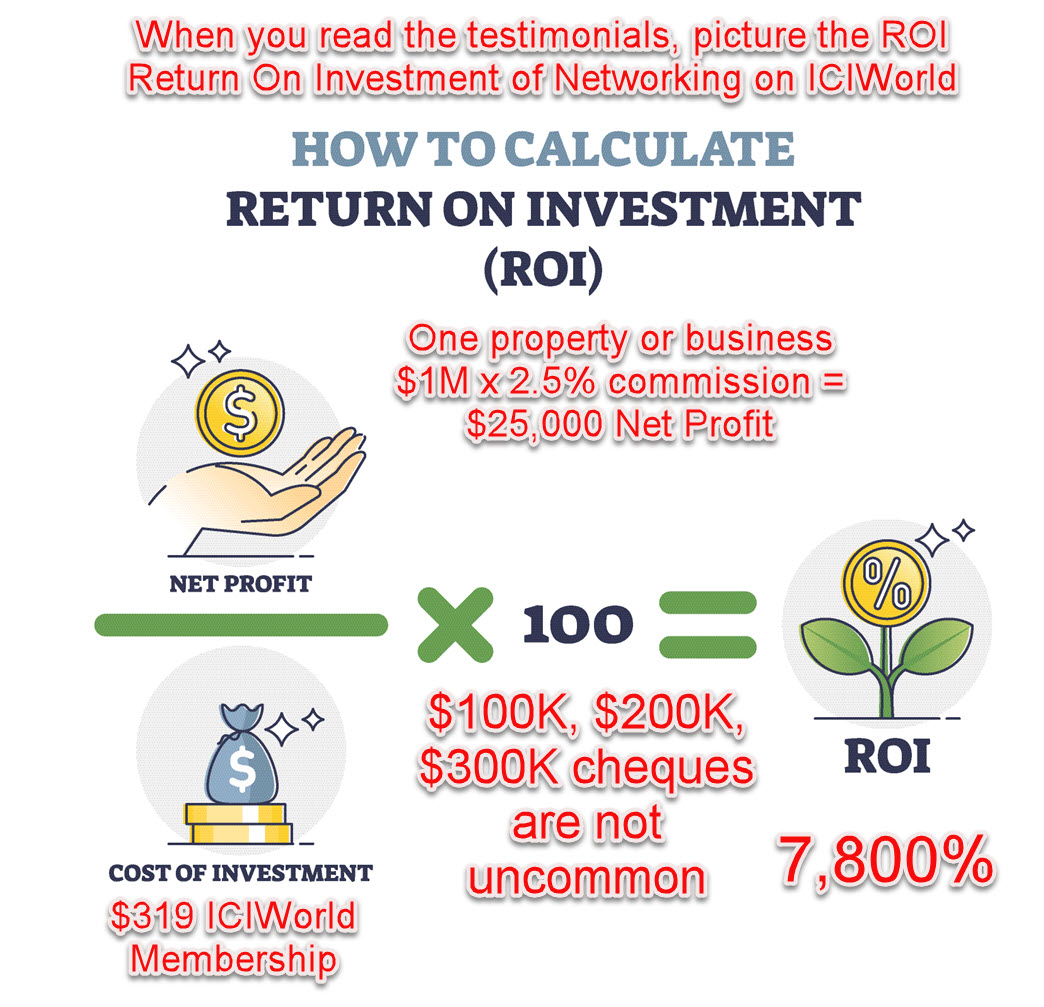 Every single member can make more than 100% Return on their investment with ICIWorld.
Sales are from $10,000 to $50,000 and more. Means more than 100%+ ROI on your membership.
Referrals average $3,000 to $15,000 and more. Means more than 100%+ ROI on your membership.
Take advantage of a few discounts from our NEW VIP CLIENT CARD means more than 100%+ ROI on your membership.
If you did nothing else but use the VIP Corporate Client Discount Card and saved $300+, you just made 100% Return On Your Money in a membership.
Our service is designed to have every single member generate 100% and more ROI on their investment.
We can only Pledge To Help You.
Doing it this way helps us to promote the global real estate networking for you to do business that is successful in helping brokers and salespeople worldwide do business. 
Our goal has always been to find ways for the Internet to help us in real estate bring down the cost of doing business but at the same time take full advantage of the Powers of the Internet. We are doing it successfully for members.
But the challenge is that numbers are needed. 
All information flows through the hands of licensed real estate brokers and salespeople. That is because we are an independent association of real estate brokers and salespeople designed as a global service.
There is more choice for the public and protection for the public because members are trained in consumer protection under their license to trade in real estate.
There is more opportunity for brokers and salespeople to make money because networking information triggers leads, just like an MLS listing can trigger a lead. 
More.
I call this a win-win situation for real estate professionals worldwide.
We appreciate the opportunity to serve you.
Management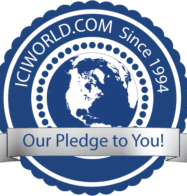 All information to get started is on the LogIn Member Management Page at iciworld.com Numbers 1 to 11. We will be going through them with you in what is usually a one-time setup. Need more time? Just make another appointment. This way we can help everyone one-on-one. With phone calls we just play telephone tag.
Make a Zoom appointment. 10 Minutes before your time go to the Log In Page at iciworld.com and click on Zoom. Any issues call 416-214-4875 Gary or 416-840-6227 Lorraine.
If you cannot make the appointment, please cancel it from the bottom of the confirmation email that you receive or call to cancel. We make special arrangements for these appointments for you. We will be in the Zoom workshop waiting for you.
We appreciae the opportunity to serve you.