Four Ways To Make Your
ICIWorld Executive Membership FREE
AND MANY HAVE ALREADY DONE IT FOR A LIFETIME

See Our Welcome Page and due to the interest at one of the busiest Trade Shows of the year such as TRREB Realtor Quest we have extended the special to new members at this time.
Toronto Regional Real Estate Board with over 10,000 attendees



We recommend everyone worldwide install the ICIWorld App for iPhones and Androids. And add a shortcut to ICIWorld.com
All members may wish to delete the old app and install the new one where you can now log in.

Global Real Estate Networking
For Real Estate Brokers and Salespeople Worldwide

See Over $1 Billion In Sales

Operated by real estate brokers and salespeople to serve the public free worldwide.
Manager Gary Nusca, CCIM, CIPS, Realtor, Broker 49 Years BIO
JOIN SPECIAL FOR NEW MEMBERS jOIN HERE 

$30/mo. or $240 FOR ONE YEAR AND THREE MONTHS.
Renewals and regular price at $319 per year.

1. ICIWorld Corporate VIP Client Discount Card and Registration 

One way to make your membership free.
VIP Corporate Discount Card For All Yearly Executive Members. See PDF File
Discounts members report that add up to more than the price of a membership.
All while taking advantage of global real estate networking.
2. Income From Sales offsets the membership fee needed to run the service
Free For The Next Ten Years and Likely A Lifetime

See members who have already earned enough to pay for a lifetime of services.
If you see the testimonials, many have offset a ten year membership within 90 days.
A ten year membership would be $3,190. See members who have made way more than that.
3. Income From Referrals & Sales From IDX Links' Leads
Absolutely inevitable to trigger leads to do business from the
ICIWorld IDX Links
of content we supply for your website.  It is real estate classified ads on your website in the way that you get all the leads.
4. Income and Savings From Referring Colleagues To Join
All these brokers made way more than the price of membership. 
 Proving if they can do transactions by networking information
All Realtors globally can do transactions by networking information.
ICIWorld Global Real Estate Networking Services Since 1994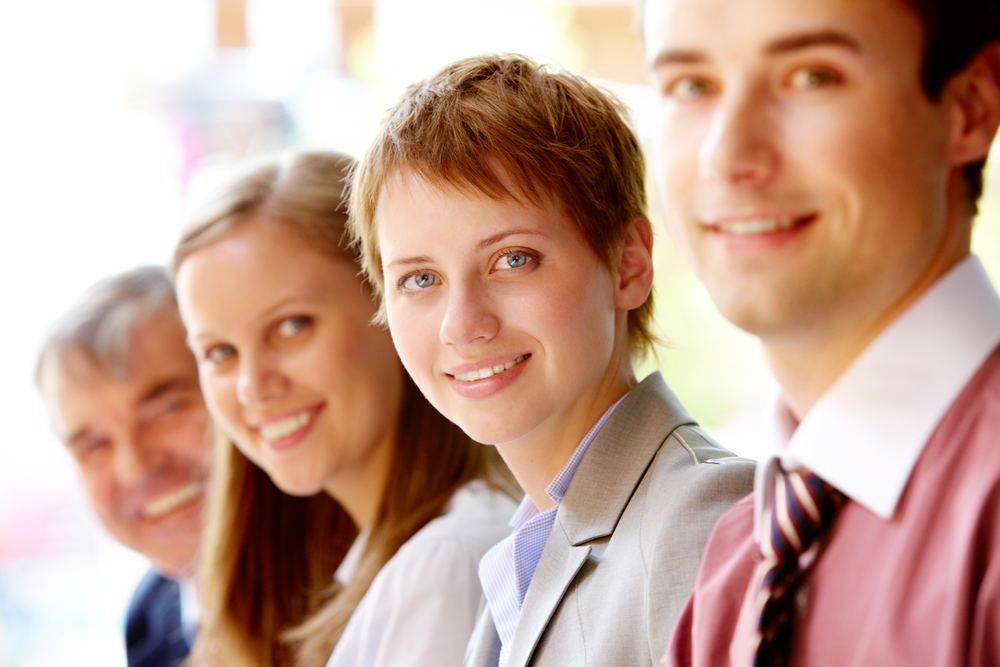 1.
ICIWorld Corporate VIP Client Card Registration
Hundreds of dollars in discounts
Canada, USA
Introduced May 2023 at Realtor Quest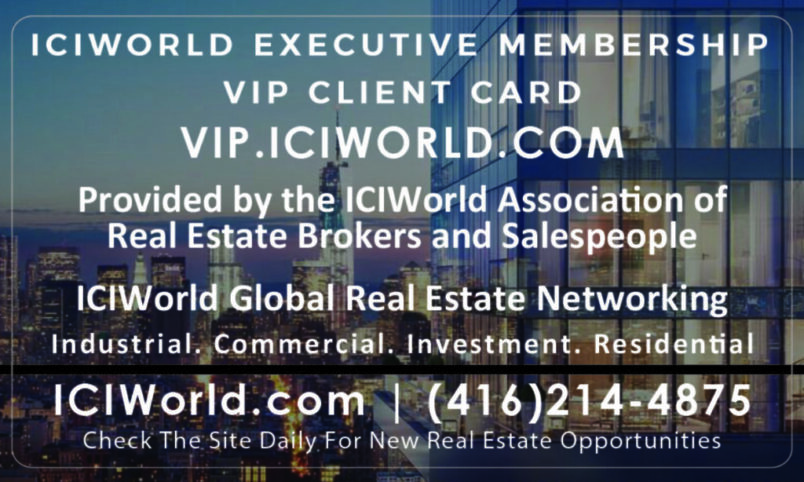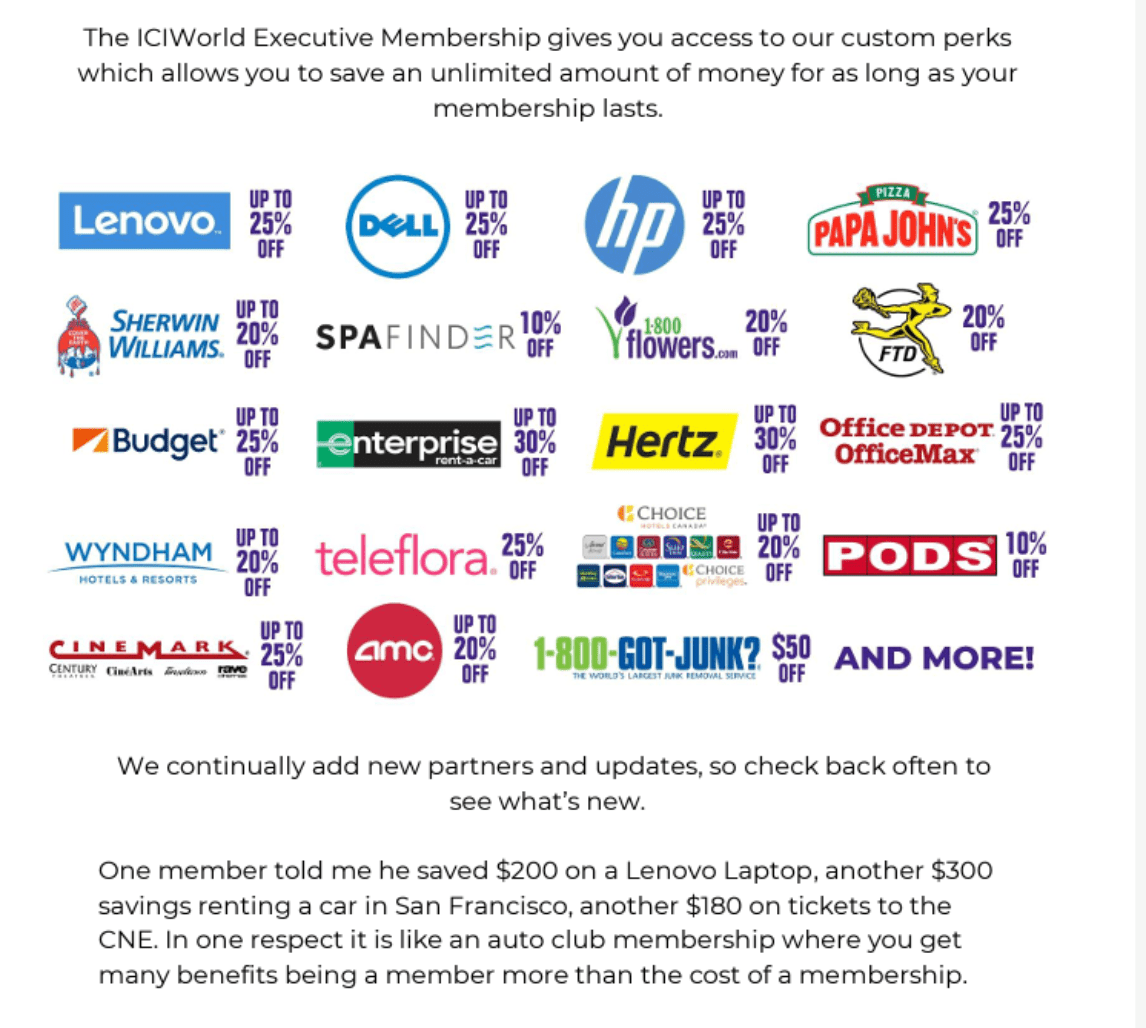 Get your registration number from Gary or Lorraine and Register Here for ICIWorld VIP Corporate Discounts.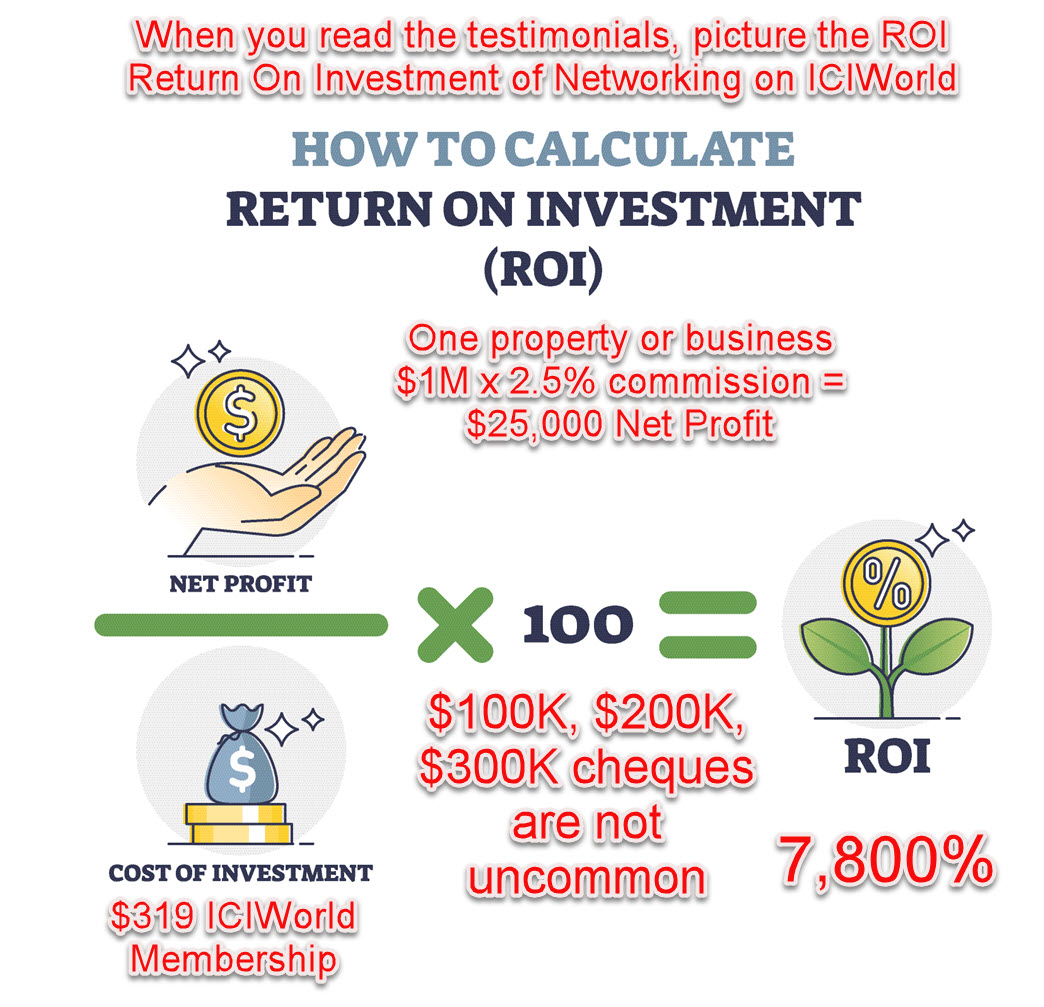 See the bgrokers and salespeople on the cutting edge with over $1 Billion in sales proving all brokers and salespeople can connect with the public to do business using the ICIWorld Internet Services. Not much time is needed because the IDX Links work automatically on your website triggering business. Placing a Have or Want on the Log In Member Management Page does not take long. Searching periodically is a matter of 1 to 2 minutes to make a connection on your mobile phone or computer.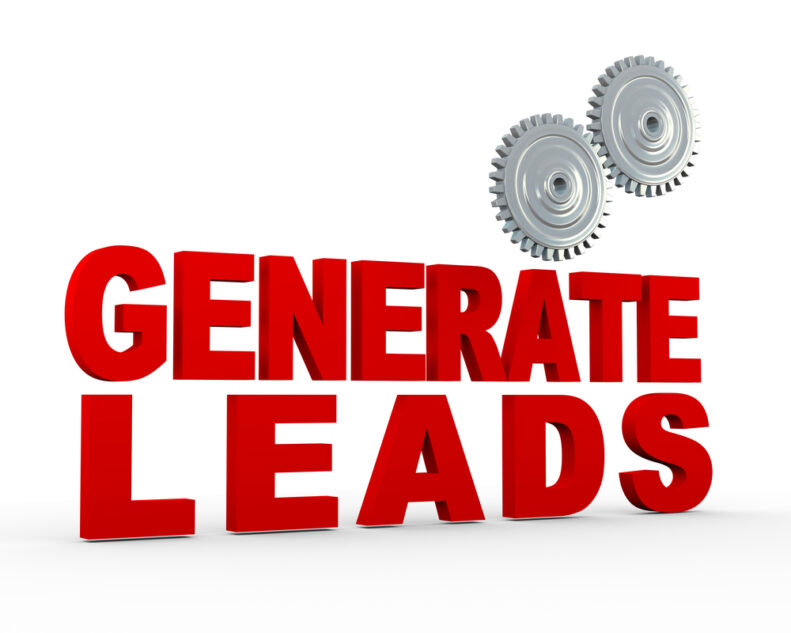 If there is one thing better than listing and selling it happens to be referrals. Why? 
Because they take as little as 5-10 minutes or a little longer, and they average $3,000 to $10,000 to $15,000 and more.
ICIWorld helps you to generate leads from your website with The ICIWorld IDX Links for your website 
Provide the database of real estate buyers and sellers that are on ICIWorld, to be on YOUR website, in a way that interests your customers and clients and in a way that YOU get the leads! 
Get a call on a listing generated by the links on your website from ICIWorld and DO A REFERRAL to the broker who has the listing. "Tell them, I have a lead for you, is a 25% referral fee okay with you? " On a $3 Million property, commission $5% = $150,000, 75 to selling broker and 75 to listing broker. You would make 25% x 75,000 of the selling broker commission, almost $20,000 for doing a referral. Keep in mind 75% of the listings, Haves and Wants on ICIWorld are exclusive and unique not available elsewhere.
Or you can make arrangements to show the property yourself and make $75,000.
Generate leads from YOUR website from the unique content of listings, Haves and Wants shared by other real estate professionals. 
One referral pays for a lifetime. 
Add the ICIWorld IDX links to your website and generate leads that give you an opportunity to do transactions and referrals.

Great for part-time real estate brokers to do referrals to full-time professionals. 
Great for full-time professionals to do referrals on listings, Haves, and Wants out of their area or expertise. 
The content provides global networking for customers to deal with through you. You will be providing world networking from YOUR website. 
It is inevitable to do business.
4. A Referral Program If And When You Get Your Colleagues To Join ICIWorld, YOU Benefit.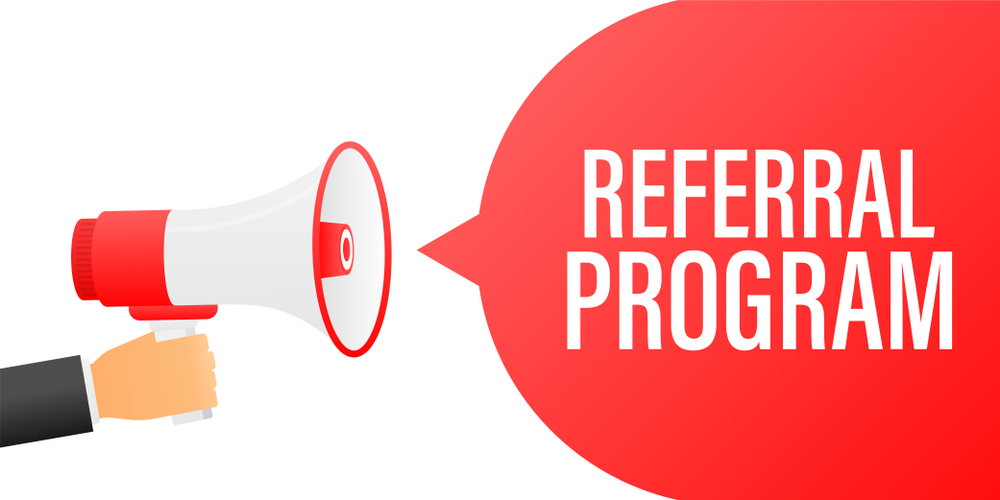 Invite colleagues, friends, and others with a real estate license to join us. 
When they join, you'll save 25% on your renewal, and for every additional referral from you, we'll add three extra months to your membership. 
If you refer five individuals, you can renew your membership for just $240 for one year and get an entire year for free ie: 4 referrals x 3 months each. 
As for the new member that you refer, they can join for a one time special per member of $240 for one year and three months if they use the link provided by you.
ICIWorld Executive Membership Summary of Services Click Here 
All information to help you is on the Log In Member management Page at ICIWorld.com
Summary:
Lucrative Opportunities: One transaction in 10 years can yield $25,000 in profit and pay for a lifetime of seven memberships. Make a connection by going to ICIWorld.com
Our Pledge. Every member should either do a transaction or referral every 90 days or, at the very least, trigger leads you feel will lead to a deal or referral. A growing percentage of our members have done 2-5-10-20-30 deals.
Consistent Earnings: Our pledge to members ensures you have deals, referrals, or leads every 90 days, providing income or give us a chance to help you.
Vast Market: With over five billion internet users, you have access to a massive potential client base.
High Returns: Each member can expect over 100% ROI with ICIWorld due to significant sales commissions and referral income.
Testimonials: Numerous successful Realtor professionals have found success with our platform, demonstrating its potential. Literally hundreds of millions of dallars in transactions.
Substantial Commissions

: Earn sales commissions ranging from $10,000 to $50,000 to $100,000+ and more, providing excellent ROI on your membership.



Leverage Referral Income: On average, earn $3,000 to $15,000 and more through referrals, further increasing your ROI.
Exclusive Benefits: Utilize our NEW VIP CLIENT CARD to access discounts, leading to additional ROI on your membership.
ROI from the Start: Even with minimal use of the VIP Corporate Client Discount Card and saving $300+, you achieve 100% ROI.
Designed for Success: Our service ensures every member generates 100% or more ROI on their investment; otherwise, you are missing doing something, and we can help.
Dedicated Support: We are committed to helping you succeed and pledge to provide assistance whenever needed.
Global Real Estate Networking: Join our community to do business successfully with brokers and salespeople worldwide.
Leveraging the Internet: Our goal is to make the Internet a powerful tool for real estate professionals, lowering costs while maximizing opportunities.
Licensed Real Estate Professionals: All information flows through licensed brokers and salespeople, offering public protection and choice.
Opportunity for Growth: Networking information triggers leads, offering brokers and salespeople increased income potential.

Experience

Since 1994 as an information and marketing assistant to brokers and salespeople. See successful Realtors.
Win-Win Situation: We strive to create a mutually beneficial environment for real estate professionals globally.
We look forward to serving you and supporting your success.
Management.
The ICIWorld Association of Real Estate Brokers and Salespeople

USA 954-317=2327 Canada 416-777-2633 North America Toll Free 1-877-272-1721
To provide efficient and maximum-quality assistance one on one, please
Make An Appointment
This keeps our costs down and allows us to pass on the savings to you.
At your appointment time we will be using Zoom.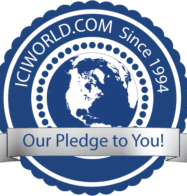 It is our goal to have every single member make connections to do business which adds to the wealth of a country.
Hopefully, you get started, make an appointment with us and let us help you take full advantage of the Internet and information listing services.