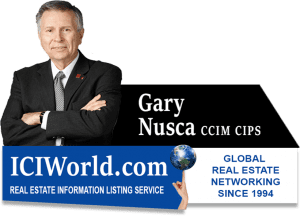 Gary Nusca, CCIM, CIPS, Realtor, Broker 48 years.
Gary Nusca, CCIM, CIPS, is the founder of The Market ICIWorld Commercial Real Estate Network (since 1994) located in Toronto, Ontario, a global service platform for networking exclusive Real Estate opportunities worldwide and marketing listings for the Commercial and Residential Real Estate industry.
It handles information similar to classified ads in a newspaper but with information such as CCIM's and other's networks in CCIM Have and Want marketing sessions as presented at the TRREB and other boards and meetings throughout North America.
A forty-seven-year veteran (Since 1974) in Real Estate as a Broker, Gary has built this service with the feedback of 1,000+ brokers and salespeople that now has over $40 Billion of Commercial Real Estate opportunities and up to $11 Trillion of buyers, over 40,000 Haves and Want opportunities placed by Real Estate Brokers and Salespeople and the Public, spanning our real estate industry . . . world wide.
He has produced many seminars, webinars and shows for the commercial and residential real estate industry.
He is the Past Chairman of the 1999 CCIM International Commercial Real Estate Conference at the Toronto Harbour Castle Hotel and Convention Center.
He is the Past President of the Central Canada CCIM Chapter and has served in many capacities for over 20 years, meeting at the Toronto Regional Real Estate Board.
He is the Past President of the Junior Chamber of Commerce. 
He is the Past Chairman of Hamilton's 125th Anniversary Committee with the Jaycees (Junior Chamber of Commerce), which over 100,000 people attended.
He has organized and has conducted, and attended Have and Want marketing sessions at CCIM, SEC, CIPS, and others where over $200,000,000 worth of Real Estate has been presented over a one-day session, nationally, internationally and locally.
He specializes in helping Real Estate Professionals serve the Public to help them buy and sell Real Estate utilizing the Internet to network commercial Real Estate Have and Want information to connect with others to do business.
He believes each broker and salesperson worldwide can and should collect and share real estate opportunities on each other's websites to serve the public locally and globally. The resultant sales are proven to contribute to the economic prosperity of Canada and can contribute to every nation on earth when fully embraced by the real estate industry.  It is real estate brokers and salespeople who are best positioned and the proper people in the industry worldwide to network real estate Have and Want information. They provide consumer protection for the public. And the public has more choices in the marketplace.
Connecting Globally is as easy as connecting Locally with the many websites powered by ICIWorld.com, a Global Real Estate Information Listing Service Database. Mobile technology, Apps, websites and more are now used by 5+ Billion people. (2022)
Could you invite him to present these emerging trends for your office or convention as a speaker or conduct a Webinar? 
Could you supply a date and time?
Call Diana, Seminar/Webinar Co-Ordinator, at 905-577-5600 or EMail seminars@iciworld.com
Written comments of attendees of seminars.
Gary Nusca, CCIM, CIPS, Realtor, Broker 48 Years
Manager and Founder
ICIWorld.com (Since 1994)
416-214-4875
REM MAGAZINE ARTICLE INFORMATION THE GOLD ON THE INTERNET
Please consider us a personal information and marketing assistant to you personally.