Commercial and Residential Real Estate Mobile Friendly Websites
With Exclusive Listings As Well As MLS


All your customers should have your mobile-friendly website on their mobile phones!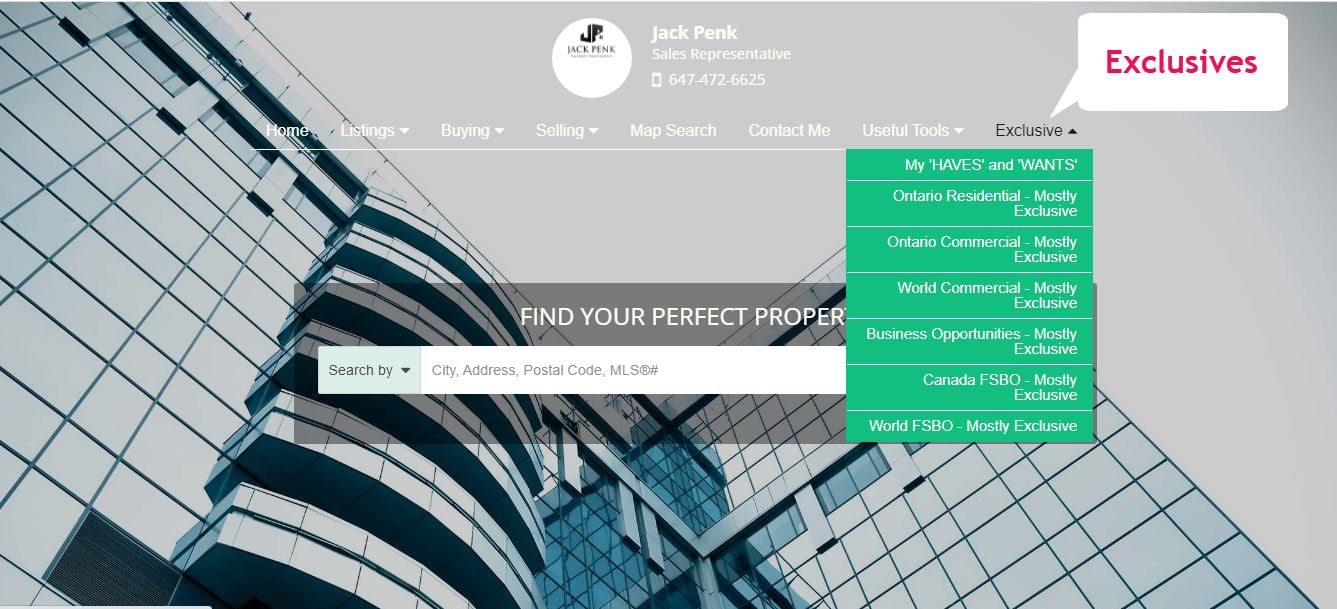 The following websites display MLS listings and Exclusive real estate Haves and Wants from other brokers and salespeople who allow them to be displayed on YOUR website.
75% are exclusive not on MLS.
And they are structured in a way that YOU get the calls.
You are providing more choices for the public. Extra opportunities for you to make money.
Exclusive inquiries have to go through you.
Do referrals and direct business.
Look for Exclusive on the Menu. Some exclusives may be under commercial or residential on the menu.
No Website? No Problem! And as little as free for one month, then $16.50/mo. to $34.99/mo. 

In an appointment, we can display different websites, residential, commercial that are being used by thousands of real estate brokers and salespeople. We can show you in a few minutes what you are missing. And if you have a website we can start to show you how to promote it. If you do not have any traffic to your website you still won't get any leads. 

We recommend that if you have one website now you should keep it. We think we can help you with all your websites.  The amount of money you can make from one lead is substantial. Think of it as fishing. You have to learn just a little but you can and we can help. Just do not give up if you try for a time and nothing happens by itself. 

However you can have more than one website and many Realtors do because they are like billboards. You only need one lead to pay for a lifetime of many websites. They all have the capability to generate leads! You just have to learn how. We can help. 

Websites are like a storefront. You can add products and services. Add content of listings, Haves and Wants from ICIWorld! They are especially good because the public cannot see the address of a listing, they have to call you for more info. 

For every real estate broker and salesperson for everywhere on the planet earth tailored to you and your area.

Free for one month and then if you like it, keep it for $19/mo. or $199/year ($16.50/mo.) (Subject to change before ordering.)

Your website becomes a world internet portal for listings worldwide.

 And when you help your customers put your website on their mobile phone, it looks like an App!

They can search homes, commercial property near them.
They can search Solds.
They call you to see a property, when you show it, you can make money.

Add The ICIWorld IDX Links To Your Real Estate Website
Global Real Estate Listings,
Exclusive Real Estate Have and Want Opportunities

The next person who visits your website and sees one of these listings has to call YOU.

Unlike MLS, where addresses and contact names of the listing broker are available for customers to see and they may go direct, the listings from ICIWorld because they are exclusive, they have to call you as long as you are an Executive Member.

Turnkey websites and customizable by you.

Two levels of customer support. One from the website company. One from us.

5+ Billion People On The Internet

Don't miss out on having "your real estate store" on the Internet.
In the summertime when I visit resort towns and walk by real estate offices and see property pictures of homes for sale in the windows it is very interesting. Your website can do this on the Internet!

But it is one thing to have a website. It is quite another to make it work. Many fall flat. ICIWorld can be your assistant throughout the year to help. Measure your success with 

Our Pledge.

 Virtually any member who has not made money or connections is missing something and they have not taken the time with us to find out why and give us a chance to help fix it. We have the experience of helping brokers and salespeople make money for over 20 years.
IDX LINKS OF EXCLUSIVE LISTINGS FOR YOUR WEBSITE! 

 

BROKERS ARE LEARNING TO PROVIDE A GLOBAL REAL ESTATE INTERNET PORTAL DISPLAYING WORLD REAL ESTATE OPPORTUNITIES FROM THEIR OWN WEBSITE! 

 

We support all real estate broker websites in the world to provide access to world listings, Have and Want real estate opportunities. 

 

It is all in real-time, updating listings daily automatically. 

 

They provide more choices for your prospects and clients.
  

 

 It is making money for members. 

 

 To get it working is one instruction by EMail to you that you forward to your website company and it is done! 

The next person who visits your website and sees an exclusive listing has to call you! 

 

 Do referrals. 

 

Do direct business. 

 

 CLICK HERE

 to see details and samples for ICIWorld IDX LINKS Widgets of world listings, Have and Want opportunities that you can add to YOUR website. 

 

Order them today and within an hour you will power up your website to trigger leads. 

 
ICIWorld supplies powerful mobile world websites for real estate brokers and salespeople. Turnkey. 

Designed while you watch and make choices. And learn to modify things yourself if you wish.

Generate leads with special IDX Links to Exclusive Opportunities as well as MLS listings!

ICIWorld is an official installer of the Toronto Regional Real Estate Board MLS IDX Links. That way people can search the MLS on your website as well as exclusive.

You can learn more about this and other cutting edge technology for brokers by listening to a featured Webinar recording On Demand at https://stage.iciworld.com  

Webinars that we provided for real estate boards, real estate associations and real offices. 

See  50.iciworld.com to see fifty sample websites with ICIWorld Exclusive links. 

All real estate brokers and salespeople in the world should have a website that is mobile optimized. Happy to chat about this anytime by appointment.

Look forward to speaking with you.

Gary Nusca, CCIM, CIPS
ICIWorld.com
416-214-4875
 

ICIWorld Sample Mobile Real Estate Websites

ICIWorld is an official installer of the TRREB (Toronto Regional Real Estate Board) of the MLS IDX LInks so that people can search the MLS on your website. But that is not all. There are two other major world networks of listings. 

You could have a $30,000 website and they are not as powerful as the ones supplied by ICIWorld for as little as $16.50/mo. From a broker's point of view, it is listings that trigger interest from people. And now you will have MLS listings AND exclusive listings. Ask for a presentation, make an appointment, and then you be the judge. 

We have been perfecting this since 1994 and it is working as smoothly as a baby's bum. 

On all the websites look for the special links from ICIWorld Exclusive on any of the following on the menu bar.

Residential Exclusives 50% Exclusive
My Haves and Wants
World Commercial Mostly Exclusive
Ontario Commercial 75% Exclusive
World FSBO's (For Sale By Owner)
Business Opportunities Mostly Exclusive

For every one of these links, it is absolutely inevitable to trigger leads because they are structured in a way that YOU get the calls. It is like having classified ads on YOUR website but in a way that YOU get the leads. 

Do referrals.

Do direct business. 

The great thing about all these listings is that the public has to call YOU for more information, they can not click on a message number.

Doing it this way makes it a win-win situation for the public because more information becomes available to them of an exclusive nature that is not on real estate boards. 

Remember 75% of the commercial Haves and Wants are exclusive not on real estate boards and about 50% of the residential.
One to two sessions to set it all up while you watch.

Total setup, design, training and support in a special way. There is no other service like it.

Free for 30 days, then as little as $16.50/month if you wish to keep it in the form of $199/year.

Customized For all Real Estate Salespeople Everywhere On The Planet Earth.

There are 5+ billion people using the Internet. You will have the best presentation possible.

IF YOU HAVE YOUR OWN WEBSITE NOW, you can install the ICIWorld Widgets on your existing website. They are unique in the marketplace, from ICIWorld that can be installed on all real estate websites in the world. Over 35 websites companies have them installed for their clients who are real estate brokers and salespeople. We send you the instructions to pass on to them.

It is the special links many created exclusively by ICIWorld that make these websites special and more powerful. Links to thousands of listings, real estate board listings, Exclusive Listings, Residential, Commercial, Business Opportunities, FSBOs, world listings, etc.

The very next person that sees a listing in one of the links created by ICIWorld . . . has to call YOU for more information.

There is nothing like an appointment to physically show you over the Internet what is going on.
Whenever they are interested to see SOLDS in their area they can click on YOUR website.

Whenever they want to see how much real estate is for sale and what price, it is on YOUR website.

They will see how well connected you are to the buyers in the marketplace with lists of buyers on YOUR website.

They can search on their mobile phones homes, commercial "nearby." For sale/solds!
The search near me feature depends on your real estate state or provincial association.

In Canada, it can be for all of Canada, but normally it is displaying

all the homes and commercial property on MLS in your province all on YOUR website.
Includes CRM database to keep track of customer lists and send newsletters.
Lead capture. Is someone interested in a listing? Their name, phone email goes into your CRM.

ICIWorld has a marketing plan and video on How To Promote Your Website.

There is nothing like an appointment to show you.