International Networking of real estate. Free for buyers/sellers to SEARCH Database 1 and 2. Free FOR THE PUBLIC globally to Add Haves and Wants.
50% of residential, 75% of the 30,000+ commercial Haves/Wants are exclusive and unique on ICIWorld. Daily Webinars For Real Estate Brokers.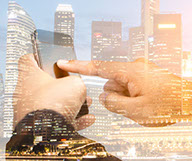 iciworld.com/indexmemb.html
A Society of Real Estate Brokers and Salespeople Serving the Public, Networking Exclusive Real Estate Opportunities, Marketing Listings, on Mobile Devices and Computers and,
sharing and displaying Haves/Wants on member websites. Don't be a secret agent, join today.
Industrial, Commercial, Investment (ICI) and Residential Real Estate Opportunities.
Readership from the public locally and from people in 138 countries.
To Increase your net worth . . . increase your network.
ICIWorld Since 1994.